Because of my job as a travel blogger, I sometimes get invited to stay in places around the world that I've never even heard of before. This was also the case with the city of Magdeburg in the Saxony-Anhalt Region of Germany, when I travelled on the Transromanica route to see Romanesque heritage along the way.
I always love visiting new places, even though on these trip I don't often get the chance to stay for very long (usually 1-2 days). That's why I've created our 'One Day in…' series here on the blog to add all my tips together in a practical, compact city guide that you can use to plan your own adventure to a destination you perhaps didn't know about!
Today, I'll show you what you can see and do in the old (one of Germany's oldest cities!) city of Magdeburg in Germany. This city is often overlooked, because more 'popular' cities such as Berlin, Hanover and Leipzig are nearby, but you'd be surprised at what there is to experience in this city that got bombed during the Second World War, but rebuild into it's charming, 1200-years old self. Did you know for example that it's the second greenest city in all of Germany?
Let's have a closer look at some great experiences to add to your travel plans:
ONE DAY IN MAGDEBURG ITINERARY
In the 10th century, Magdeburg was the home of Holy Roman Emperor Otto I ("Otto the Great") and later Otto von Guericke, a politician and scientist who lived in Magdeburg through the difficult period during and after the Thirty Years' War and worked as the city's urban planner, protector and mayor for about 50 years. With these two important Otto's shaping the history and future of Magdeburg, it's perhaps of no surprise then that the city often gets dubbed as "Otto's City".
Magdeburg used to be one of the most important medieval cities in Europe and stayed one of Germany's most important cities until the early modern era. It was the center of the reformation and became a target of many battles, losing most of its citizens. During the Cold War, Magdeburg's population increased again and the city became a socially and economically important center of the GDR, until most of that economy shut down after the German reunification.
These days, Magdeburg is a university city and houses many other scientific institutions, so it's an prime location for international research. Luckily, there is a lot of history still to be found around town, and I can recommend hiring a bike to explore some more of it!
How to Spend Your Morning in Magdeburg?
After grabbing a breakfast in your hotel (I stayed at the fantastic artHOTEL Magdeburg (< click to read full review!), let's start the day by getting active!
Climb Magdeburg Cathedral
The 13th-century Magdeburg Cathedral (officially called "Dom St. Mauritius und Katharina zu Magdeburg" or: "the Cathedral of St. Mauritius and St. Katharine") is the first gothic-style cathedral in Germany and because it took over 300 years to complete, you can see different buildings styles being used throughout.
Luckily, it's two towers survived bombings in World War II. After the war, the rest of the church got restored and it's all there in its glory to be explored by you. One of the main sights here is the burial site of Otto the Great.
At the entrance to the northern transept, you can see the carvings of the five wise and five foolish virgins from the bible story (a story which I am personally not familiar with, but apparently it's a highlight of the church).
There is also a 13th-century "Royal Couple" sculpture in the chapel, ancient Roman pillars in the Apse and a baptismal font carved from Egyptian rock that could be thousands of years old, so well-worth to check out.
Entry to the cathedral is free, but if you pay for a guided tour, you can climb the 433 steps to the belfry and have a great panoramic view over Magdeburg. I can recommend it!
Opening Hours: November to March: 10:00 to 16:00, April & October: 10:00 to 17:00, May to September: 10:00 to 18:00, Sundays and religious holidays: open from 11:30.
Guided Tour: Fridays at 17:00, Saturdays at 15:00 and Sundays at 12:00, between April and October (limited to 20 people, English language on request)
Website: magdeburgerdom.de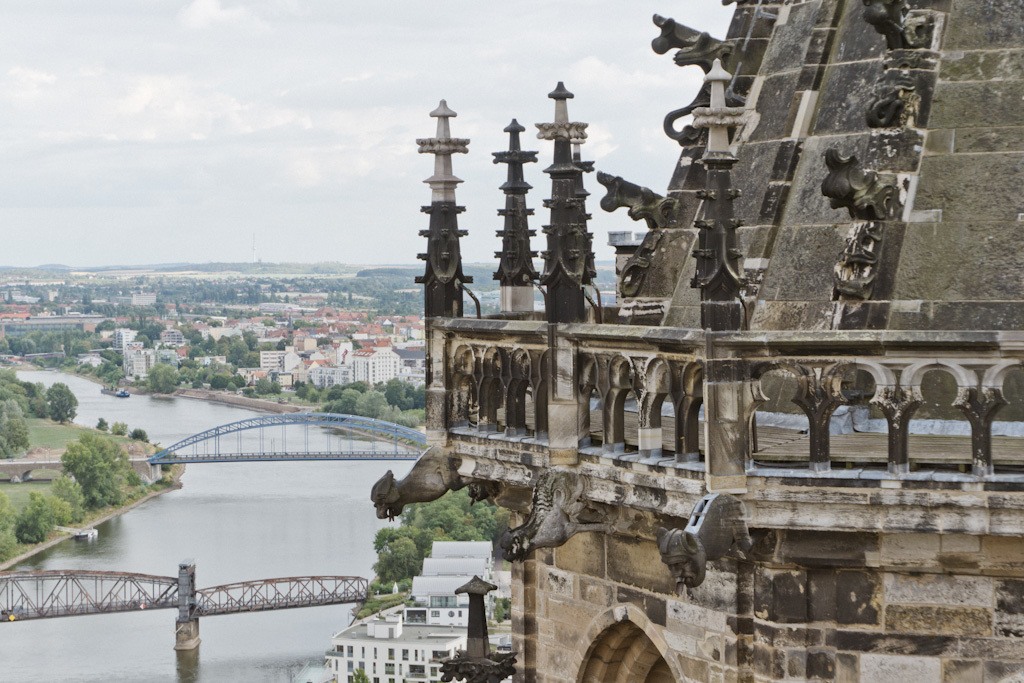 Another thing I can highly recommend is to come back to the church square at night time, when the fountains are lit up and you can get a free colourful watershow:
Explore the Hundertwasser Building
As I mentioned, we stayed at the Art Hotel that is located inside the building designed by Austrian artist and architect Friedensreich Hundertwasser, that you might know already from the Hundertwasser Haus in Vienna, Austria. This amazing pink building is one of the last buildings that he designed before passing away in the year 2000 and is also called the "Grüne Zitadelle", or "Green Citadel" as it's covered with plants and trees on the roofs and around it, symbolizing the relationship that people have with nature and architecture.
Nothing seems to have a straight line in this incredible building and it's fun to just walk around and underneath it (there is a square with some shops and a terrace) to have a close-up look yourself. From the top of the tower of Magdeburg Cathedral, you get a great look on the green roof of the building as well, but if you're not up for the climb, there is a small model of the building in one of the shops in the courtyard as well.
You can get a guided tour, that once a week also give you access to visit the roof gardens. Wondering why there are so many bird houses in the courtyard? Well, apparently, the city of Magdeburg holds the Guinness World Records accolade for the longest continuous bird houses chain. It's a thing.
Walk through Magdeburg Old Town
Because of the destruction to the city of World War II, most of the historic buildings of Magdeburg have unfortunately been lost forever, but at the square of the Alter Markt, you can still find the "Buttergasse", a medieval guild house and one of the biggest Romanesque buildings in the country. This square is also the place where a weekly farmer's market is run, as well as the Christmas market at the end of each year.
On the square, you'll also spot the Magdeburger Reiter, a sculpture of a horseman (the first free-standing medieval equestrian statue in Germany, the rider is believed to be Emperor Otto the First), the Roland statue (representing Magdeburg's independence), a Otto von Guericke Monument and of course the Rathaus, the old City Hall from 1250. While it's no longer used as a town hall, you can find one of the best restaurants of the city in the basement, and it's my recommendation for dinner in the evening, so scroll down to find out more!
Otto von Guericke – Photo Credit: falco, CC0 1.0
Close to the market square, you can find the Johanniskirche, a church that was founded by the city's merchants around the 10th century. These days, it's no longer used as a church, but as a concert hall, museum and convention centre. You can visit the church from Tuesday to Sunday and there is an observation platform at 52 meters. You can get there by walking 'just' 277 steps to the top of the south tower.
Finally, you might want to check out the Faunenbrunnem, a fountain from 1986, designed by Magdeburg sculptor Heinrich Apel that's made up of a big bronze cauldron and 22 figures including fauns, sirens, two women, a man and boys play-fighting and many animals.
Oh, and if you're looking for a good Instagram-spot (and who doesn't these days), make sure to check out the gate and building close to the bastion, such a gorgeous backdrop (I even went back there to take some extra shots, haha). I've marked them as 'Selfie Spot' on the map at the bottom of the article for you!
How to Spend Your Afternoon in Magdeburg?
Have Lunch in the City
During my stay, I didn't have the chance to check out many lunch options in Magdeburg, so I did a bit of research for you and found some places that you might want to have a closer look at:
There seems to be A LOT of Asian food places in the city, here are a few:
If you're in Magdeburg in Summer, I can recommend visiting the Beer Garden that's part of the Ratskeller Restaurant. With a signature cocktail and a fantastic tasting hamburger, the owner of this Magdeburg restaurant knows how to keep his customers happy year after year!
Visit a Museum
All filled up? Time to get a bit of culture going on. Here are some suggestions for you to visit:
Haus Der Romanik (Romanesque Art Centre)
The Romanesque Art Centre is a museum that you don't want to skip if you're interested in learning about the work of Transromanica. While small and mostly in German, this museum gives you a great interactive overview of the route throughout Europe and Saxony-Anhalt in particular.
Opening Hours: Monday and Wednesday to Friday from 10:00 to 18:00, Saturday and Sunday from 10:00 to 16:00. Closed on Tuesday.
Entry Prize: Free Entry
Website: haus-der-romanik.de
Kloster Unser Lieben Frauen (Monastery of our Lady)
This art museum is housed in the old monastery and it's considered one of the most significant venues for contemporary art and sculpture in the German state of Saxony-Anhalt. They feautre a permanent exhibition of sculptures (ranging from medieval to modern times), but also have temporary exhibitions on a regular basis.
Opening Hours: Tuesday to Friday from 10:00 to 17:00 and Saturday and Sunday from 10:00 to 18:00. Closed on Mondays, Christmas (24-25 December) and New Year's Eve (31 December)
Entry Prize: To see the exhibitions, collections and the building, it's € 8 for adults, € 5 if you only want to see the church. It's free for kids up to 18 years. For guided tours, you don't need a reservation, just check the event calendar on the website (they run on some Sundays). You pay € 1 on top of your admittance to participate. You can also buy a combination card (Museum of Cultural History, Museum of Natural History + this museum) for € 7.
Website: kunstmuseum-magdeburg.de
Kulturhistorisches Museum Magdeburg (Magdeburg Cultural History Museum)
This museum of art showcases all the works that survived the bombing of the war, since they were stashed away in a safe storage space. Paintings range from the 15th to the 20th centuries, but they also have furniture, ceramic items and many artifacts from various other eras. The museum also hosts temporary and touring exhibitions.
Opening Hours: Tuesdays to Fridays from 10:00 to 17:00 en on Saturdays and Sundays from 10:00 to 18:00. Closed on Christmas (24-25 December) and New Year's Eve (31 December).
Entry Prize: € 5 (adults) and free for kids up to 18 years. You can also buy a combination card (Museum of Natural History, Kunstmuseum Kloster Unser Lieben Frauen + this museum) for € 7.
Museum für Naturkunde Magdeburg (Museum of Natural History)
In this stately museum, you can find natural history exhibits, including recreated animal habitats & dinosaur bones. The exhibition begins with the cosmic and geological foundations of life and fossil evidence of evolution on our planet. Then, you get a glimpse into the great biodiversity of the earth. In the following three rooms, you can learn about the biodiversity and ecology of special regions of Saxony-Anhalt and see an exhibition about the different glacial advances during the Ice Age and the effects on the flora and fauna.
Opening Hours: Tuesdays to Fridays from 10:00 to 17:00 en on Saturdays and Sundays from 10:00 to 18:00. Closed on Christmas (24-25 December) and New Year's Eve (31 December).
Entry Prize: € 5 (adults) and free for kids up to 18 years. You can also buy a combination card (Museum of Cultural History, Kunstmuseum Kloster Unser Lieben Frauen + this museum) for € 7.
Otto-von-Guericke-Museum
In parkland on the Elbe, you can find a unique, 20 meter high octagonal defensive tower (the "Lukasklause") from the 13th century, that currently houses a museum that traces the life and the contribution to science of 17th-century physicist Otto von Guericke. The historic rooms are decorated with period furniture and historical documents. You can also have a close-up look at Otto's experiments, that have been staged using antique and modern equipment.
Opening Hours:
Entry Prize: Free, donations are appreciated. Every Friday at 2PM, you can take a free public tour featuring hands-on experiments as well.
Website: magdeburg-tourist.de
Dr. Martin Luther Statue – Photo Credit, falco, CC0 1.0
Cycle (Part of) the Elberadweg
What better than to explore one of Europe's greenest cities by bike? The gorgeous Elbe River is a great place for outdoor lovers to cycle along. There are several 'Elbe Cycle Routes' that start in Magdeburg and take you to a variety of cities along the river. You can take short trips or even go for multiple-day routes, because this "Elberadweg" is almost 1000 kilometers (about 600 miles) long and connects Prague in the Czech Republic to the city of Cuxhaven at the Northern Sea in Germany!
Rent a bike or join a tour with 'Elbe Rad Touristik' in Magdeburg. For more information, please check their website.
Website: elbe-rad-touristik.de
How to Spend Your Evening in Magdeburg?
Tired from taking in all the cultural and historical sites, climbing towers and cycling from place to place? Then it's time to relax a bit! Here are some suggestions:
Take a Boat Ride on the Elbe
One of my favourite activities in Magdeburg was taking a boat ride on the River Elbe. We boarded the "raft" at restaurant and pub-garden Mückenwirt and enjoyed a lovely buffet dinner while flowing along the river, watching the sun go down. For more information, I would check their website!
Website: mueckenwirt.de
Have Dinner at Restaurant Ratskeller
Hungry after a day full of sightseeing? I can imagine! You can either stick around restaurant Mückenwirt if you depart your raft, or get back into the town center and head over to restaurant Ratskeller for a true German feast. This restaurant is located in the basement of the Magdeburg Town Hall and is 300 years old!
The owner was kind enough to serve us a range of their typical and delicious German dishes, and honestly I wouldn't know what to recommend you, because it was all delicious. The restaurant is know for its traditional cuisine, so you can't really go wrong here. Enjoy!
Website: ratskeller-magdeburg.de
Rather have dinner from a different type of cuisine? No worries. There seems to be quite a bit of option in Magdeburg. Here are some other dinner suggestions for you (I haven't tried these myself, but they sure look good!)
Or scroll back to my lunch suggestions for all the Asian cuisine options, such as Japanese, Indian or Vietnamese!
Do You Have More Time in Magdeburg?
Explore Rotehornpark
This English landscaped park is the largest in the city and it takes up most of the Werder river island on the Elbe. The island had been undeveloped for hundreds of years when the city first laid out the park in the 1870's and it was extended in 1898 to its current 200 hectares. The island also features the Stadthalle, a Bauhaus style building that was constructed for the German Theatre Exhibition in 1927.
In Summer, it's a popular spot to hire a rowboat and spend some time on the tranquil lake at the centre of the park.
Explore Elbauenpark
If you have a bit more time in the city, perhaps you want to check out some of the parks that Magdeburg is rich. Elbauenpark is known as the 'green lungs' of Magdeburg. The most popular attractions in this park are the wooden Jahrtausendturm Millennium Tower (the world's tallest structure of its kind featuring five floors of interactive exhibitions), the "Seebühne" (Lake Stage), a butterfly house and a Green Path that has been designed to educate kids about the environment in an engaging way.
Apart from the obvious highlights, the park also has many different sports options, playgrounds, sunbathing areas and themed (flower) gardens, artworks and sculptures for you to admire.
Jahrtausendturm – Photo Credit: Brockenhexe, CC0 1.0
Visit Zoologischer Garten (ZOO) Magdeburg
The Magdeburg ZOO openen in 1950 en has been renovated and upgraded many times since that. You can find over 200 species of animals in a cultivated natural landscape and the park is know for its walk-in habitats. The zoo features a 20.000 m2 Savannah enclosure for zebras and giraffes. It has panoramic platforms, so you can get eye-to-eye with the animals. Just like many other zoos, there are regular daily feedings that you can attend.
Marvel at the Kanalbrücke Magdeburg (Water Junction)
My final tip is a visit to Magdeburg's Water Junction, for those of you who are interested in engineering. This is Europe's longest canal bridge (about 918 meters or 3012 feet) and it has a water-conserving lock (Rothensee), a double ship lift (Hohenwarthe) and several connecting canals. This navigable aqueduct connects the waterways of Hanover, Magdeburg and Berlin.
If you don't want to book a cruise that gets you on the water, you can also go to the path next to the canal for some sightseeing.

PLAN YOUR TRIP TO MAGDEBURG!
I hope this article helped you deciding what to do in Magdeburg! Here is more information to help you plan your trip:
Time Zone in Germany? GMT+1
Currency in Germany? Euro (EUR). Check the latest exchange rate here.
Electrical Plugs in Germany? 230 V (Plug and socket type F. This socket also works with plug C and plug E). We recommend getting [amazon_textlink asin='B01KLMW9GY' text='a universal travel adapter' template='ProductLink' store='thetraveltester-20′ marketplace='US' link_id='1798619a-ecb8-11e8-8af7-5980e1425c5f'] to never worry about having the right plug on your travels!
Languages Spoken in Germany? German
Best time to visit Germany? Germany's weather can be relatively cold in the winter, but from November, the Christmas markets warm most visitors up. From May to September, weather is the warmest. Because of Oktoberfest, Munich and surrounding environs can be really, really hectic from mid-September to mid-October. The more quiet soulder seasons runs from March through May and from late October through November.
Insurance for Germany? Make sure to get travel insurance! We recommend checking out worldnomads.com
How to get to Magdeburg? Magdeburg in Central Germany is best accessible by plane from Berlin-Schönefeld (SXF) or Leipzig/Hall (LEJ), then onwards by car (freeway A2) or train (to Central Station "Magdeburg Hauptbahnhof", check bahn.com). It takes about 2,5 to 3 hours from Berlin to Magdeburg by train.
How to get around Magdeburg? In Magdeburg, there are S-Bahn trains, trams, buses and ferries that are all linked in a transport system called Marego, so you can use the same ticket on them. But the city center is small and can easily be explored on foot or even better: bike!
Map of Magdeburg Tourism Spots
Read more about Magdeburg, Germany
I hope you enjoyed all the suggestions for Magdeburg Germany things to do! Here are some more articles for this region for you:
Transromanica Road Trip in Germany: Harz Mountains to the Strasse der Romanik
ArtHotel Magdeburg: Unique Hundertwasser Architecture in Germany [Accommodation Review]
You Need to See the Incredible Nebra Sky Disk: The Oldest Depiction of the Cosmos Found in the World!
Looking for other cool places to visit in Germany? We can recommend:
Want to see more of our travel photos? Follow us on Instagram here
Want to see more of our travel videos? Subscribe on YouTube here
Want exclusive updates and stories from our world travels? Subscribe to our weekly newsletter here
All Transromanica Articles
Have a look at all our articles of things to see and do along the Transromanica Route:
GERMANY
SPAIN
PORTUGAL
Looking for more 'One Day in…' City Guides?
[amazon_link asins='3850003310,174321023X,1631218301,2067216104,1465457283,1465468307,110187970X,0970373465,0241306434′ template='ProductGrid' store='thetraveltester-20′ marketplace='US' link_id='c815037b-00bd-11e9-802f-47958236317a']
PIN IT!

Disclaimer: I was invited by Transromanica for the #Transromanica campaign and was compensated for creating content on our website and social media channels. All photos and words are our own, as always.