Whether you're a Game of Thrones fan or not, Northern Ireland is definitely a destination to consider putting on your bucket list. The landscape is amazing, just like the food and the people. Hire a car and road trip around the coast, or join a tour and learn more about the stories of this interesting country.
If you happen to be a 'Thronie', you'll get the 2-for-1 package, because Northern Ireland is chock-full of famous and lesser-known locations shown in the series or affiliated with the popular show in some way.
NORTHERN IRELAND GAME OF THRONES TOUR IDEAS
While I was only in the country for 2 days, we managed to squeeze in a TON of activities related to Game of Thrones and here are 6 of my favourite ones:
1. Visit the Filming Locations
Film location holidays are becoming more and more popular and Northern Ireland is definitely one of the best organised when it comes to their location tours.
While the indoor movie set isn't accessible, many outdoor locations are, so make sure to check out our extensive blog about Game of Thrones movie locations in Northern Ireland to plan your own route!
Cairncastle (The Riverlands)
Dark Hedges (The Kings Road)
Audley Field (Robert & Ned Hunting)
Tollymore Forest Park (The Haunted Forest)
Inch Abbey (Robb Stark's Camp)
2. Have a Go at Archery at Winterfell
Besides many of the outdoor locations, one of the must-have experiences when it comes to movie locations is a visit to Castle Ward, or as you might know it: Winterfell.
You can practice your archery skills, pet some direwolves and explore the surrounding area with a guide dressed as someone from Winterfell.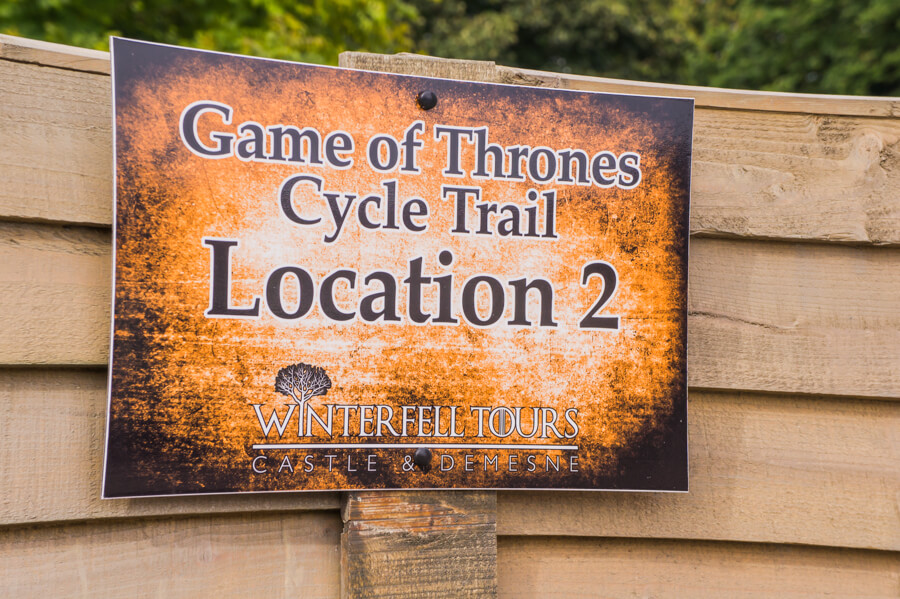 The dogs that played the direwolf puppies in series 1
Behind the Scenes
3. Admire Game of Thrones Jewelry
If you've watched the Game of Thrones series, you can imagine the amount of work that must have gone into creating the sets, props and costumes. But did you know that the details go as far as specially designed jewelry for the series?
Steensons was already a famous jewelry brand in Ireland, but showing their skills on the show, they've become even more so of an attraction. You can visit their shop in Belfast, see their Game of Thrones-themed jewelry on display at Ballygally Castle, or you can visit their workshop in Glenarm Village.
Collection at Ballygally Castle
Steensons Jewelers in Belfast
4. Visit a Game of Thrones-themed Pub
During filming of one of the seasons, the crew was hit by a severe storm and had to hide from the rain. They chose the Fullerton Arms Pub in Ballintoy, Ballycastle. You can only imagine the faces of the people sitting at the bar with a pint in their hands when an entire team of bearded guys dressed in bearskin cloaks walked in for a drink…
These days, there is an entire room in the pub dedicated to Game of Thrones and you can also find one of the ten secret wooden doors here. Definitely a place to visit if you're a Thronie!
5. Search for the 10 Secret Doors
We already wrote a whole blog post about the ten secret Game of Thrones doors that you can find all over Northern Ireland, but we just wanted to mention them again in this ultimate round-up of Game of Thrones experiences in the country.
The doors were made from two trees from the Dark Hedges (Kings Road in the series) that unfortunately got struck down after a storm. Now, they will live on forever, each depicting scenes from all of the 10 episodes of season 6. The details are incredible and the wood couldn't have gotten a better second life than they do now!
6. Enjoy a Game of Thrones Dinner or Afternoon Tea
From spotting film locations to secret wooden doors and from petting direwolves to practicing your archery skills… you've probably gotten a bit tired of your Game of Thrones Tour around Northern Ireland! Well, then there is only one last thing to do during your visit, and it's both relaxing as pretty epic.
At Ballygally Castle (read the review of our stay here), you have the option to either enjoy a Game of Thrones Afternoon Tea, or an entire GOTR banquet, like we did!
For £22 per person, the Game of Thrones Afternoon Tea at Ballygally Castle features treats inspired by the TV-series, such as "Little Finger Mini Chicken Caesar Wrap" and "Lannister Egg Rolls" or "Hodor's Pulled Pork Brioche". The sweet selection of your tea includes "Jon Snow Cakes", "Stark's Chocolate Cake Pops" and the "Kingslayer Cupcake". How cool is that?!
Ballygally also offers a complete package where you can enjoy the Afternoon Tea and a tour of the filming locations, followed by a Game of Thrones Banquet and overnight stay with breakfast. As a blogging group, we also got to experience the Banquet and boy, it was amazing. Have a look:
This unique "Westeros Tomahawk" design steak is served on a wooden platter with a "Valyrian Steel" inspired knife
These are also part of the Afternoon Tea: Sansa Stark's Lemon Cakes, Dothraki Trifle with Mini Dragon's Egg and Ayra's Madeleines
Filming Locations: discovernorthernireland.com/gameofthrones
Winterfell Experience: gameofthrones-winterfelltours.com
Steensons Jewelry: thesteensons.com/Game-of-thrones
Fullerton Arms Pub: fullerton-arms.com
Ballygally Castle Afternoon Tea: hastingshotels.com/ballygally-castle/gameofthronesafternoon
Read our other blogs about Northern Ireland here:
Sleep in a Cloud… and Meet a Ghost at 17th Century Ballygally Castle in Northern Ireland
Brunel's in Newcastle, Northern Ireland: A True Local's Meal
25 Photos That Make You Want to Visit Northern Ireland Today!
Game of Thrones Fan? Then You'll Love These Articles:
BOOKMARK ON PINTEREST:
Disclaimer: I visited Northern Ireland and all Game of Thrones Belfast & Beyond locations on invitation of Visit Britain and Tourism Northern Ireland as part of the #OMGB campaign. All opinions and love of Game of Thrones Europe Locations in this article is 100% my own!